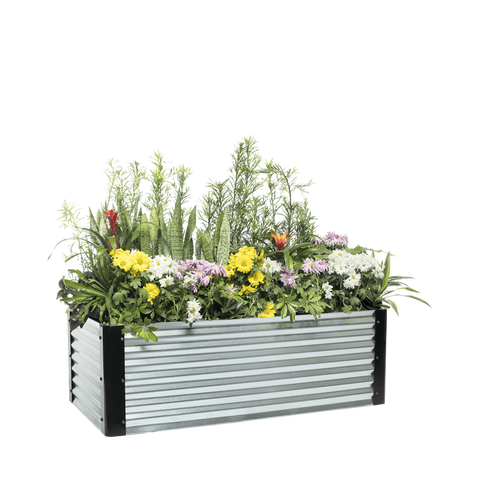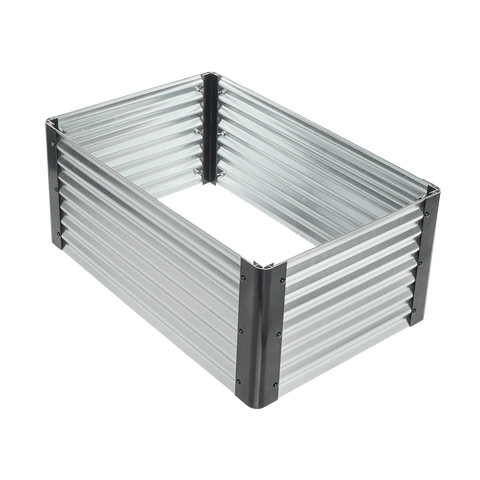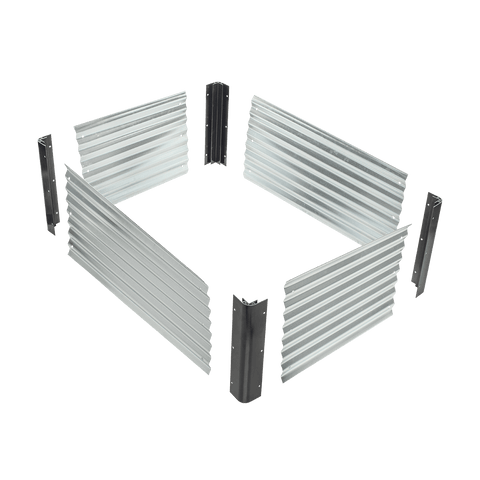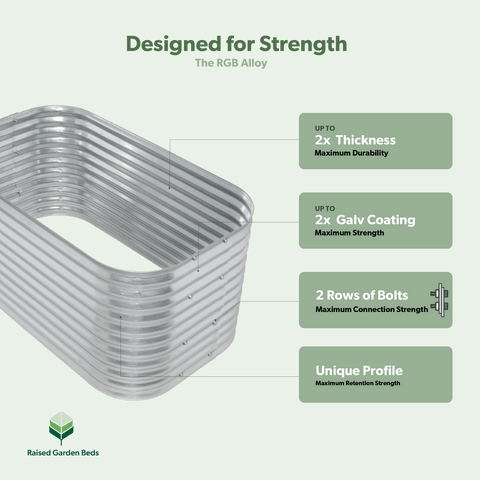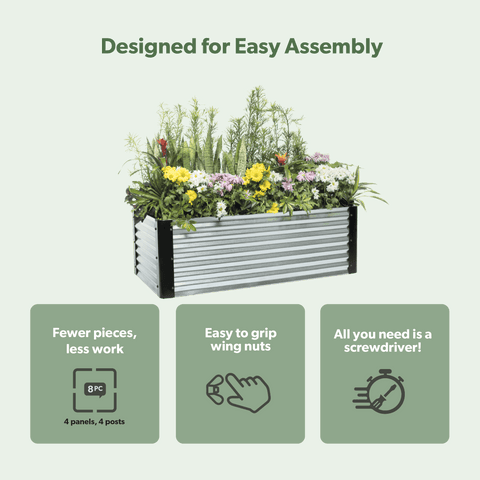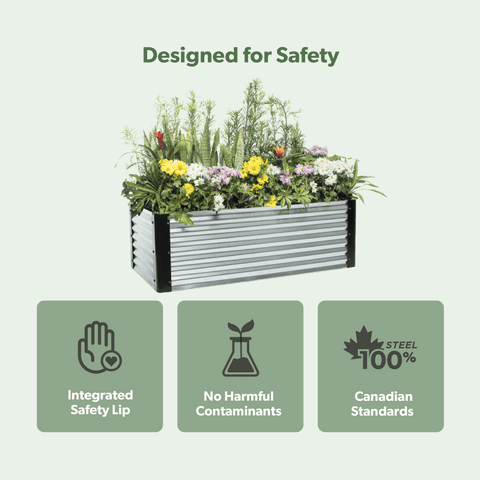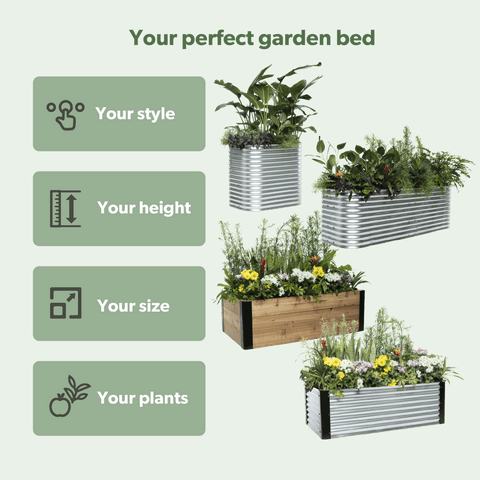 Raised Garden Beds
Oasis — 16" High — Raised Garden Bed
Our 16" High Oasis Raised Garden Beds uses 3.2mm thick aluminum corner posts to easily assemble panels of 0.8mm thick RGB Steel Alloy; specifically developed for Canadian gardening and free from harmful contaminants. 
Comes with 4 corner posts, 4 panels and all hardware.
May 3rd Update:  We're extending our pre-order sale while carrier backlog clears up! Fresh orders are expected to ship within 1 to 3 business days. And as the carrier backlog clears, we'll be working our magic to send out new orders in just a single business day. Thank you so much for your understanding and patience. Happy gardening!

Why gardeners choose Oasis
Strength
0.8mm thick RGB Steel Alloy panels
3.2mm thick corner posts
Ease of assembly
4 panels
4 corner posts
Hardware included
Safety
Seamless panels
Integrated safety lip
No toxins used in manufacturing
Free of heavy contaminants
Experience the Future of Canadian Gardening:
After years of meticulous development, our newest garden bed boasts a seamless panel design that doesn't sacrifice durability, ensuring it can handle extensive use and effortlessly withstand the rigours of Canadian winters.

Reinventing the way Canadians garden
Introducing: RGB Steel Alloy

RGB Steel Alloy is a specially formulated galvanized steel blend with a corrugated profile designed for gardening. Up to 2x as thick and with up to 2x the zinc coating as other garden beds, RGB Steel Alloy
not only looks great but performs exceptionally well in retaining soil, supporting healthy plant growth, and can endure the Canadian elements (and winters!)

From our family to yours

For 20 years, everything we've done has been guided by the same vision: Creating the safest, most ergonomic, and cost effective solutions for Canadian gardeners.

From our gardening family to yours: Happy growing!
The quality you've come to expect
Features of our Oasis Raised Garden Bed
Garden without breaking the bank
Accessible and comfortable gardening
Up to 50% thicker than imported garden beds
Start assembling right away, all you need is a screwdriver
Seamless panels and integrated safety lip
No harmful toxins used in manufacturing
Frequently asked question
What's the difference between the Oasis and Oasis+?
Same design, different sizes
Our Oasis is made from 0.8mm thick RGB Alloy Steel and is available up to 48"L and 48"W.
Our Oasis+ is made from 1.0mm thick RGB Alloy Steel and is available up to 60"L  and 60"W
How long will it take to receive my order?
Orders for our Oasis, Oasis+, and Bloom are assembled in 1-2 business days and ship via courier.

Orders for select Discover and Harvest sizes (including our Harvest mini) are assembled in 1-4 business days and also ship via courier.

Orders for our larger Discover and Harvest sizes are assembled in 1-4 business days and require specialized LTL carriers.

Please note delivery times vary by region.

Please see our estimated transit times by region in our Shipping FAQ .

Why don't you offer pre-painted garden beds?
We prioritize your customization and safety
At Raised Garden Beds Canada, we believe in providing you with customizable and safe options for your garden.

While we don't offer pre-painted options, our garden beds feature a versatile galvanized finish that's perfect for a DIY paint job, allowing you to embrace your creative side and avoid the risks of imported pre-painted garden beds.

What should I consider when purchasing a garden bed?
Galvanized steel, aluminium coated, or wood?
There are a lot of factors to consider when choosing a garden bed to meet your needs.
Material: The material your garden bed is made from is important because it can affect durability, drainage, and soil quality and retention.
Galvanized steel is an excellent choice because it is strong and resists rust and weathering. Locally manufactured options are often better quality and subject to greater quality control, which means you'll avoid the lack of transparency and possible safety concerns that come with overseas manufacturing.
Thinner materials or materials including aluminium may scratch and corrode. Wooden garden beds are aesthetically pleasing but require higher maintenance and are subject to decay over time, especially in the Canadian climate.
Ease of assembly: Look for a garden bed with a straightforward assembly process, ideally one that requires minimal tools and time.
Maintenance: Look for a garden bed that can provide excellent soil retention and is made of thicker, long-lasting and weatherproof materials. This will reduce the likelihood of requiring replacement and potential warping or decay.
Safety: Ensure that your garden bed is manufactured with safety in mind. Look for an integrated safety lip and fewer joints, as well as non-painted options to avoid the possibility of toxic chemicals leaching into your soil.
What makes your garden beds a more sustainable option?
Protecting the future of our planet
Our commitment to sustainability is at the core of everything we do, from the materials we use to our manufacturing processes and beyond.

Our made in Canada Raised Garden Beds adhere to RoHs guidelines, are made and packed with sustainable materials, and avoid carbon emissions produced by overseas transportation. We also purchase carbon offsets for all our energy usage.

By choosing our garden beds, you're making a conscious choice to reduce your carbon footprint and contribute to a more sustainable food system.

Can't find the answer to your question? Please send us a message. We'd love to hear from you.